Culture
The portrait painter of the more human side of ordinary people
Judith Joy Ross is an American photographer who was born 75 years in Hazleton, a mining town in Pennsylvania. He walks slowly and seems somewhat absent, but begins to see and talk about his 200 images exhibited by the Mapfre Foundation, in Madrid, its largest retrospective, and it transforms: gesticulates, lets go of a few "fucking", grabs the arm with complicity and speaks tenderly about his subjects, except some of his series about US congressmen.That delicacy is embodied in its beautiful black and white, achieved with a voluminous bellows camera on a tripod and with a direct printing paper in contact with the large negatives, which is then exposed to the natural light. A process from the Victorian era. In a black T-shirt and jeans, with her short gray hair tousled, she stops almost before every photo; He could be talking hours about his work, which, after all, has been his life.
The first photograph of The exhibition, curated by Joshua Chuang and which will run until January 9, 2022, is the last What has been done of the exposed ones, in 2015. It is a portrait of a young woman who titled Persephone , after the Greek goddess of the underworld, who holds in one hand a mobile with a cover decorated with a skull bright and wearing a flower headband. "It was a normal Russian girl who worked at a gas station and whom I met for a walk. So, a brother of mine was dying and for me, she, in that image, expressed that idea of ​​the goddess, of someone with whom we are all going to meet ", she explains. Ross, a great master of portraiture, does not know how to explain what leads him to choose his photographed: "I am like a radar, a collector of people."
His work, which can be seen in the MoMA, has developed it with special photographic equipment, which weighs about 13 kilos. "It attracted attention, as if the circus came to town. I get under the black cloth of the camera and from there I talk to the model. I tell them that they look magnificent and that is how we take the photo between two of us. It usually takes me five or ten minutes. " Ross opens his arms when asked if he hasn't been curious about digital and color: "I have 75 years, I haven't had another damn choice. I don't know how to use other equipment. I also did not know that this it was going to change so much to become stupid. "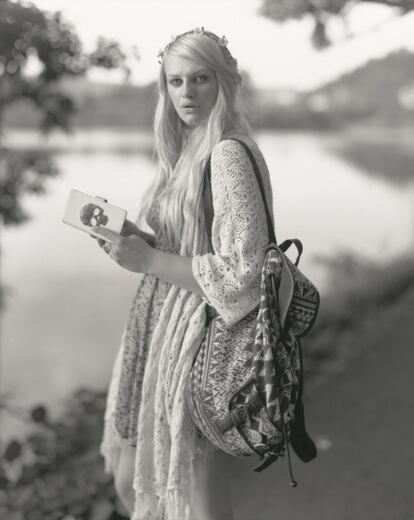 As a young man he began studying art at a school in Philadelphia, he painted, then took a master's degree in photography at the Chicago Institute of Design and began teaching. With 17 years he had taken the photo that led him to the art of the image: "I saw that Vietnam veteran who was lying down, sleeping on a bus. That link with what I was photographing, that connection with the human being, convinced me to dedicate myself to this. Photography allows me to get into the lives of others without them knowing it ", he says.
This happens with his" very good first photos ", those he took of children in a park from Weatherly (Pennsylvania), in 1982. "My father had died a year before and he was sad, so I went to that place and saw that the people who were sitting also had a sad expression, except the children, and since I needed to rejoice, I photographed them." He did it with a dim light that reflects the innocence of their faces.
That concern for the sadness that people show when they are not being observed prompted him to go to the Vietnam Veterans Monument , in Washington, in 1985. "I do not show the monument at any time. The monument is in their faces ", although he admits that" you have to read the fucking poster to know what these photos are about ". Children, young people who may have lost a relative and are saddened. "Hundreds of people passed by and I was embarrassed to ask them if I could take a picture of them, I felt out of place, but they accepted because their heart was broken, you can feel it." Like that kid who looks at the names of the dead. She sent each of those portrayed a copy together with a small object, a custom from her early days as a photographer.
Later, thanks to a Guggenheim grant, she was able to develop in 1987 his series on 100 congressmen. "It was the opportunity to show people that they have power. They are boring, but they are human beings. One comes out with dark circles, exhausted, another can see beads of sweat on his head… ". He points to a man and recalls: "This one was so arrogant that he was brushing his teeth and while he was talking to me he kept doing it. However, it was a job that allowed me to realize what I could do, that I could have the upper hand. "
With no new assignments, Ross worked cleaning houses for three years, until an award, in 1992, returned her to what she liked. "I said to myself: 'I'm going to photograph education.' I was struck by the fact that the textbooks had hardly any pictures, which indicates how important teaching is to the United States ". It's a poignant series made in Hazleton public schools: a girl with glasses, "that could have been me," laughs; "The bad guys in the class waiting to get into the principal's office to be scolded, a Polish teacher who taught Spanish; look at this young man, what hair… "
The tour continues with more children, those who lived near his house. "I wanted to show them as they are, not as the advertising tells them how they should be and dress." Ross gets closer to another fantastic shot: the one of two twins and their older sister, barefoot in a park. "Look at them, with their feet like ducklings. The youngest are innocent, they still don't know what life is about ". In the background, out of focus, a boy observes them: "It looks like Romeo waiting for them."
The people of northeast Pennsylvania follow one another in the final section of the exhibition. "Everyone likes to look good in a photo, well, I suppose this man did not like to go out with that tripon, but it is endearing because he is posing with his friend."
It is the authenticity, the purity that exude the faces of the ordinary people that Ross has photographed. The one in the passers-by that he portrayed looking from New Jersey in amazement at the smoking Twin Towers after the Al Qaeda attack. "The normal, the common, I think is magnificent. I am a photographer because I like to explain things with images. "
Judith Joy Ross, at the Mapfre Foundation ( Madrid)
Until 9 of January of 2022.
Price: 5 euros.