Technology
The PP denounces Fernando Simón for his "sexist and humiliating" remarks against the nurses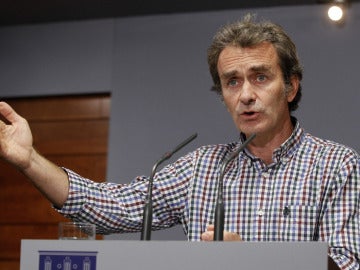 Updated: Monday, November 2, 2020 5:46 PM
Published on: 11/02/2020 5:40 p.m.
The Popular Parliamentary Group has lodged a complaint against Fernando Simón, director of the Center for the Coordination of Health Alerts and Emergencies, for "sexist and humiliating" remarks made against the nursing community. The complaint was presented to the Observatory of the Image of Women, under the Ministry of Equality headed by Irene Montero.
The remarks to which the PP refers in its complaint occurred during an interview between Fernando Simón with the climbing brothers Iker and Eneko Pou. "It wasn't very clear to us whether you liked infectious diseases or infectious nurses," Eneko Pou asked him. Simón replied with a laugh: "I didn't ask them if they were contagious or not, we could see it a few days later."
The "popular" consider in their writings that these remarks are sexist and discriminatory in order to "ridicule, underestimate or present women in any type of professional activity in a humiliating way", as stipulated by the principles of the Observatory.
Prohens (PP) in Montero: "Let double standards meet"
Marga Prohens, MP of the PP and deputy spokesperson for social rights, equality, inclusion and gender violence within the popular group, indicted the Institute for Women and the Minister of Equality for having "remained silent" in the face of Simon's "regrettable statements".
"The Women's Institute is looking for colors and toys … and 'in theory' the objectification of feminized groups. Irene Montero wants to fight male chauvinism. Both remain silent in the face of Simón's lamentable statements.
"Let the double standard respond. And act," he adds in his message on social networks, in which he attaches the complaint filed by his parliamentary group.
Illa hopes Simón "clarifies" the statements
Health Minister Salvador Illa asked about Simón's comments on nurses, said he hoped he could clarify them.
"I hope he himself brings a clarification on this subject," said the head of Health, convinced that the director of the Alert and Health Emergency Center will give an explanation for these comments, qualified as sexist. .