Technology
The PP will abstain and will not support the six months of the state of alert requested by Sánchez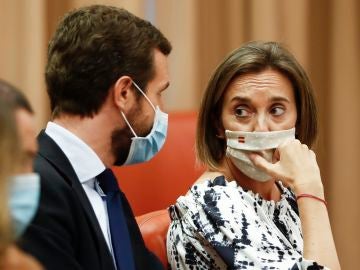 Updated: Wednesday, October 28, 2020 11:13 PM
Published on: 10/28/2020 11:03 PM
The Popular Party is not happy with the length of the six-month state of alert proposed by Pedro Sánchez and will abstain from voting, sources in Genoa have confirmed to LaSexta. The prime minister's latest proposal was to approve the Congress of Deputies on an extended state of alert for up to six months, although he has shown himself willing to appear every two months to consider it, as proposed by ERC.
Although the government has defended that it has sufficient support, these would not include those of the "popular", who do not support the duration proposed by the government for this exceptional measure, aimed at slowing the progress of the pandemic in our country. They are also not convinced that Sánchez is responsible in front of the hemicycle every two months, they consider it "insufficient" and bet that he does it every two weeks. The same sources assure that the party negotiated with Moncloa until the last minute, but "it was impossible".
Due to the current health situation, the People's Party preferred to abstain instead of voting "no", because it explains that it cannot oppose a framework for urgent action against the pandemic. But they are not ready to give in to what they see as a "lack of parliamentary and judicial control for six months", as Sánchez proposes. In return, the PP is ready to process its legal plan B which amends the law on public health.
In addition, from Genoa, they report that the PP will go to the Venice Commission of the Council of Europe "to ask the European institutions to guarantee the separation of powers that the Sánchez government does not respect".
The PP proposal: 8 weeks and control every 15 days
The People's Party has registered in Congress a motion for a resolution that the state of alert lasts until December 20, with parliamentary scrutiny every fortnight.
"During the last hours the PP has maintained contacts with political formations except Bildu to ensure parliamentary control. Due to pressure from the opposition, the government has been forced to rectify and say now that he would be ready to control two Extremely insufficient, as we put it together in our motion for a resolution, "they said after recording the motion.