Technology
"The transferred image is not suitable"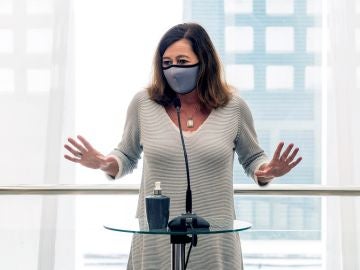 Posted: Sunday October 25 2020 21:52
The President of the Balearic Islands, Francina Armengol, apologized for the message of "social relaxation" which could have generated, "unintentionally", her presence in a bar sanctioned for having violated the closing time. "I am aware that the image I uploaded is not suitable for the audience," he said.
Armengol began with this request for an apology at the press conference he offered this Sunday after the government approved the state of alert. "I fully understand that there are a lot of people on these islands at the moment puzzled by the situation generated around me in recent days," said the socialist leader, adding that she knew she had "been able to transfer a image of social relaxation, which is not at all what our country currently needs. "
The Balearic Islands will apply the general curfew schedule: from 11 p.m. to 6 a.m.
In her appearance, the President of the Balearic Islands indicated that the general curfew calendar in force throughout Spain will be applied in the islands, from 11 p.m. to 6 a.m., although its effectiveness will be evaluated to study its lead or delay. . one hour as authorized by the Executive.
Likewise, Armengol considered the state of alert to be an effective legal tool to reduce the incidence of the coronavirus, which, he insisted, is better in the Balearics than in the peninsula.
In this sense, the Government's objective is to place the cumulative incidence over 14 days, currently at 179 cases per 100,000 inhabitants, below 25 cases.
In addition, as he has been proposing for months, Armengol has assured that it will require the Government to carry out diagnostic tests in the ports and airports of the islands and has ruled out perimeter containment of the archipelago, as long as the epidemiological situation does not not make it inevitable.