Technology
The video of the looting of a sports store during the riots in Barcelona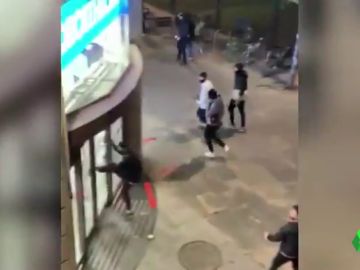 Updated: Saturday, October 31, 2020 2:32 PM
Published on: 10/31/2020 2:31 PM
A concentration called to reject the restrictions imposed to stem the pandemic has caused riots in Barcelona, ​​such as the looting of a sports store. As the video shows, a young man opened a sports store in Barcelona, ​​at which point a group that was there decided to access his interior.
The young people then left the establishment and fled the place on bicycles and electric scooters they had just stolen.
Additionally, some of the people who carried out the riots in Barcelona confronted the police with "motherfuckers!" and they burned containers screaming "Freedom!" The demonstration, which had to be dissolved by the police, ended with the arrest of 14 people. In addition, 30 people were injured, including 23 police officers.
As stated by Father Ferrer, director of the Mossos d'Esquadra, the violence took place after a peaceful concentration: "It ended up becoming a violent group with a strong far-right presence, which we are currently analyzing" he declared.
Other similar protests took place in other cities in Spain, such as in the Gamonal neighborhood in Burgos, where police had to flee when protesters directly chased them with stones. After this unauthorized concentration, which also had to be dissolved, more than 100 containers were burned. It was at the time of the rupture that the riots began.
For his part, the president of Castilla y León, Fernando Fernandez Mañueco, asked for comfort: "I call for serenity and responsibility; the violent episodes which take place in Burgos, in addition to being reprehensible, do not help to fight against the common enemy which is the virus; my support for the security forces ".
Meanwhile, in Santander, the same image of violence was produced in the center of the city. About 150 young people rioted, police said, and eight people were arrested. These demonstrations also took place in the streets of other Spanish cities such as Zaragoza or Valencia.
These altercations had already been experienced at dawn on Friday in Bilbao. For the Minister of the Interior, Fernando Grande-Marlaska, these are irresponsible attitudes for which they are prepared: "Our objective is to guarantee public health", he told Al Rojo Vivo.