Technology
These are the base areas and municipalities of Madrid confined perimeter as of Monday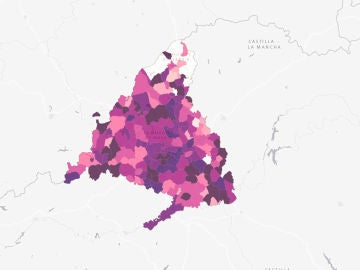 Updated: Friday, October 23, 2020 1:32 PM
Published on: 10/23/2020 12:27
The Community of Madrid will establish restrictions in 32 basic health zones with the highest incidence of the coronavirus pandemic from this Monday and after the end of the state of alarm.
In these territories, the exit and entry of people will be restricted except in the case of travel to work, to health or education centers, to return to the place of usual residence or to provide assistance and care to elderly, minors or dependents.
Road traffic through these areas will be permitted as long as it begins and ends outside of them. People residing in these territorial areas can circulate there always respecting the sanitary measures.
The 32 zones belong to 12 municipalities in the region and cover nine districts of the capital Madrid. You can check them out below.
Affected areas in the capital of Madrid
Nuñez Morgado, in ChamartínGuzmán el Bueno, in ChamberíSan Ándres, San Cristóbal and El Espinillo, in VillaverdeEntrevías, Peña Prieta, El Pozo del Tío Raimundo, Alcalá de Gaudaira, Rafael Alberti and Numancia, in VallecasDaroca and Vallecaroca and NumancosDancia, TorealVaterito Vandel, in MoratalazPuerta del Ángel, in LatinaBegoña, in FuencarralInfanta Mercedes and Villaamil, in Tetuán!
Municipalities of the Community of Madrid
Collado VillalbaGuadarramaMajadahondaVillarejo de SalvanésColmenar de Oreja Morata de TajuñaEl BoaloIn Pozuelo: the region of San Juan de la CruzIn Torrejón de Ardoz: the borders and the BrújulasIn Parla: San Blas and the paintersIn Colmenar Viejo: Nortejo
In addition, throughout the Community of Madrid and from Saturday, hospitality establishments must close at 00:00 a.m. and cannot admit new customers after 11:00 p.m., while in commercial establishments they must close at 10:00 p.m. less those who provide essential services ".
The hotel industry must suspend bar service and capacity will be limited to 50% inside the premises and 75% on the terraces.