Technology
These are the basic health areas of the Community of Madrid that are confined from today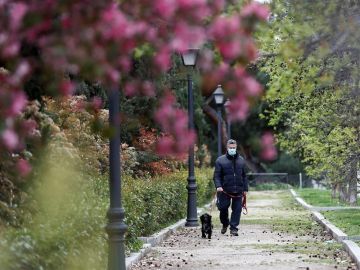 Publication: Monday, November 9, 2020 8:21 a.m.
The Community of Madrid has expanded its list of basic confined health zones. From this Monday, and for 15 days, the municipalities of Chinchón and Villaconejos (Colmenar de Oreja), San Martín de Valdeiglesias and Pelayos de la Presa (San Martín de Valdeiglesias), Moralzarzal, Alpedrete, Galapagar, Sierra de Guadarrama and Collado Villalba.
These localities are in addition to the basic health zones that were already contained and which will continue so for at least two more weeks, as they have not recorded a reduction in infections and incidence in recent days.
So far, 35 basic health zones have been contained, affecting 12 municipalities in the region: the capital of Madrid, Collado Villalba, Guadarrama, Majadahonda, Pozuelo de Alarcón, Parla, Colmenar Viejo, Morata de Tajuña, Torrejón de Ardoz , El Boalo, Villarejo de Salvanés and Colmenar de Oreja.
More precisely, in the capital Madrid, the restricted areas belong to nine districts: Núñez Morgado (district of Charmartín), Guzmán el Bueno (Chamberí), San Andrés, San Cristóbal and El Espinillo (Villaverde); Entrevías, Peña Prieta, Pozo del Tío Raimundo, Alcalá de Guadaíra, Rafael Alberti and Numancia (Puente de Vallecas); Daroca (linear city); Vinateros Torito, Pavones and Vandel (Moratalaz); Puerta del Ángel (Latin); Virgin of Begoña (Fuencarral-El Pardo); and Infanta Mercedes and Villamil (Tetuán).
In all of the basic health zones mentioned, the restrictions will remain for an additional two weeks. Thus, you will not be able to leave or enter this area except to fulfill professional or professional obligations, attend educational centers, receive health care, take care of the elderly and / or dependents, carry out official procedures. or urgent and other causes of force majeure which are duly accredited.
Restrictions throughout the Community
In addition to the confinement of these areas, the curfew is maintained between 00:00 and 06:00, section in which it will not be possible to circulate on public roads. Likewise, social gatherings continue to be limited to six people who do not live together.
In the hotel industry, capacity is maintained at 75% on terraces and 50% in indoor spaces, while bar service is still not authorized. In shopping centers, markets and places dedicated to culture (cinemas, theaters or museums), capacity is still limited to 75%.
For their part, academies and driving schools, casinos, sports centers, places of worship and civil and religious ceremonies continue to be 50% occupied.
In the case of confined areas of the perimeter, shops should close at 10 p.m. and bars and restaurants at 12 a.m. While areas reserved for children have been closed and places of worship can only be occupied at 30%. In these areas, vigils can only be attended by 15 people.
For the moment, the Community of Madrid remains completely closed on the occasion of the feast of Almudena, celebrated on Monday. Since last Friday and until 00:00 this Tuesday, entry and exit to the region are prohibited.