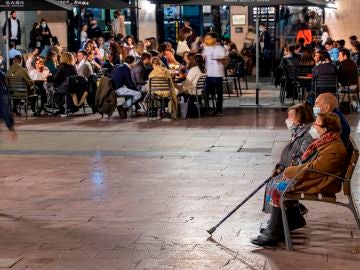 Posted: Monday, November 2, 2020 2:39 PM
The President of Asturias, Adrián Barbón, has announced drastic measures to contain the spread of the coronavirus in the region. The restrictions will come into effect from Tuesday evening to Wednesday, as announced by the president at a press conference after recording record data during the second wave of the pandemic.
Among the measures that will be imposed in Asturias from Wednesday, there is the closure of all non-essential economic activity, as well as the restriction of meetings and leisure gatherings. Specific:
– Temporary suspension of activity in shopping centers and all retail stores. Exceptions: pharmacies, orthopedic products stores, workshops, tobacconists, health and veterinary clinics as well as animal feed stores, dry cleaners, service stations, hairdressers or establishments providing home and basic necessities.
– Closure of hotel and restaurant establishments, as well as hotels.
– Suspension of meetings, conferences and meetings of communities of owners.
– Suspension of the celebration of shows and recreational activities.
– Closure of museums, theaters, cinemas and end of sporting events.
– Face-to-face activity in universities is suspended, but attendance is maintained at other levels of training: from 0 years to vocational training and the baccalaureate.
– The curfew is advanced to 22:00.
But what will happen to the industries and football competitions? According to the regional government, the industry "is not affected to save the heart of Asturias", and the regulation of football competitions does not correspond to the regional executive: "They obey other protocols of safety and competition".
In addition, the health workforce will be reorganized to try to meet all demands. "We have significantly strengthened the human resources of SESPA, but it is true that we must proceed with a reorganization of the medical services to cover the COVID positions that we are opening," explained Concepción Saavedra.
Even so, the Minister of Health, Pablo Fernández Muñiz, assured that the decree will be published tomorrow with the detailed measures that will come into force the same evening from 00:00.
"I am aware of the force of the measures and the fact that they are extremely harsh on certain sectors of our society and our economy. But they are needed more than ever. I want us to be aware of the critical moment. If we do not 'do not act now, we run the risk that our health system We epidemiologists know that limiting mobility and close contact is the best way to relieve health pressure, "the president explained.
In this sense, Barbón recalled that "these decisions must be taken, the most drastic of those possible for the Principality". Thus, the possibility of decreeing the softened home placement that the region has requested for its territory remains in the hands of the ministry, even if for the moment they have already argued that they will not take this request into account.