Technology
These are the steps that all travelers from countries at risk must follow to enter Spain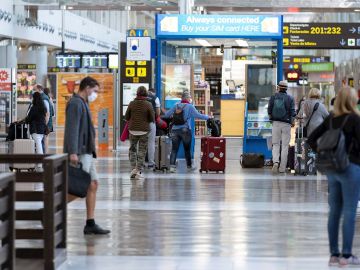 Published: Wednesday, November 11, 2020 6:50 PM
Spain will require travelers from countries considered at risk by the pandemic to have a negative PCR to enter the country. The measure, announced by the Ministry of Health to the Interterritorial Health Council, will go into effect on November 23 and tests must be carried out 72 hours before travel.
Therefore, a new question will be included in the health control form that all passengers must fill out before entering the country. The traveler, whether international or Spanish, will be asked if they have a negative PCR carried out within 72 hours of arrival in Spain.
There are several options for completing the form: or electronically, through the QR code generated on the site www.spth.gob.es or the Spain Travel Health-SpTH application; or in paper format, to be presented before boarding. In the latter case, it must be accompanied by the original document proving that the viral test was carried out.
The Department of Health also warns that this document, which can be written in Spanish and English, can be requested from the passenger at any time during the trip. However, if with the temperature, visual or documentary checks that exist so far, there is any suspicion that a traveler could be suffering from COVID-19, they will undergo a diagnostic test at the Spanish airport itself.
Which countries are at risk?
In the case of European Union countries and countries associated with Schengen, as detailed in the note from the Ministry of Health, the criteria envisaged in the EU recommendation 2020/1475, of October 13, on a coordinated approach to restriction of free movement in response to the COVID-19 pandemic.
For third countries, the benchmark will be the baseline incidence accumulated per 100,000 inhabitants in 14 days, supplemented by the capacities implemented as provided for in the International Health Regulations, based on information provided by the European Center for Disease Prevention and Control (ECDC).
Travel agencies, tour operators and air or sea transport companies and any other agent who sells tickets must inform passengers of the obligation to have a RAP with a negative result in order to travel.