Technology
They ask for prison for a mother and her daughter for not respecting the security perimeter of the home of Pablo Iglesias and Irene Montero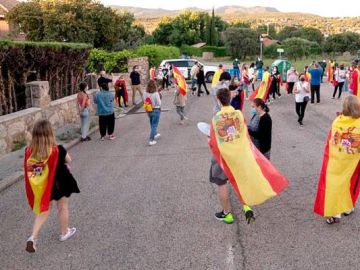 Published: Tuesday, November 10, 2020 6:27 PM
The Madrid prosecutor's office is asking for one year in prison for Ana Isabel QD and six more months for her mother Ascensión DB for not having respected the security perimeter that the Civil Guard had placed around the house in Galapagar where the second vice-president resides government, Pablo, Iglesias and Equality Minister Irene Montero informed the prosecutor's office in a statement.
The representative of the public prosecutor's office accuses the mother of a crime of disobedience and the daughter of the crime of attacking law enforcement officials and another minor ill-treatment at work. The trial will take place on November 24 at Criminal Court number 17 in Madrid.
The two defendants, according to the prosecution account, went to the vicinity of the area where Iglesias and Montero have their residence around 5:30 p.m. on October 30, 2020.
Thus, when Civil Guard agents, "in uniform and duly identified", were about to establish the security perimeter, the two women "maintained an attitude of utter contempt for the work of the agents, preventing them from perform the assigned function, repeatedly disobeying the clear instructions they gave them, regarding the return to the public highway and the clearance of the security perimeter. "
Despite the warnings, the prosecution maintains that, "far from abandoning their attitude", the mother and daughter persisted in their behavior "ignoring the repeated requests that the agents addressed to them".
In fact, they approached the officers shouting at them from inches away from their faces, "dispensing with the use of the mandatory masks" and even beat them with their hands on the chest, "which is why the officers, after informing them of the legal consequences of their behavior, they began to walk forward with outstretched arms, using the minimum amount of force necessary to move them and eventually get them to clear the area. "
However, at one point Ana Isabel QD attempted to access the security zone again "with the intention of approaching the house".
There she was intercepted by an officer "who cut her off, falling to the ground, at which point she, while calling him" son of a bitch ", attempted to attack the officer in the face with her bag, a blow which he avoided. After which, the accused kicked him which hit the officer's boots and shins, without causing injury. "