Technology
They ask to open the ICU which Ayuso keeps closed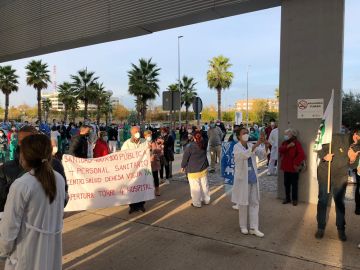 Publication: Friday, November 13, 2020 10:36
The trade unions of the Infanta Sofía University Hospital gathered this Friday in front of the main door to demand the opening of Tower 4 and the putting into service of the 16 intensive care beds that are unused there, as revealed by Salvados . in laSexta.
In the protest, banners were seen demanding "100% public health" and the hiring of more health workers to deal with the pandemic.
This Wednesday, they have already registered a letter to expose their "total disagreement" on the fact that "in the middle of the second wave of the pandemic, the intensive care beds are still not activated" in the fourth tower of the hospital center.
Meanwhile, according to trade unions, critical patients have to occupy other areas of the center, such as the post-anesthetic intensive care unit, which among other things leads to a "decrease in surgical activity".
Likewise, they criticize that "the 12 stations that are currently used as critical stations for COVID patients are located in an open room so that patients have no privacy, and situations may arise that are incompatible with the humanization of care sought. in these units ". .
On the other hand, they warned of "the increased risk of transmission of cross-infection" and indicated that "given the current evidence of transmission of the SARS-VOC-2 virus by aerosols, unnecessary exposure of workers is totally unacceptable. There are 16 individual boxes without activation ".
For all these reasons, the trade unions asked "urgently" for an "explanation of the reasons for which the said UCI was not put into service". The unpublished images proposed by Salvados correspond to a closed area of ​​one floor of the Infanta Sofía hospital. Behind a padlocked door are 16 half-prepared intensive care rooms and all you need to do is equip them with beds, monitors and ventilators. In this corridor, in addition to these 16 intensive care units, there is space for a staff room and offices.
They also urged to take "the appropriate measures immediately to reverse this situation and be able to offer quality patient care and ensure minimum exposure of workers to SARS-COV-2".