Technology
They boo and shout "miserable" and "villainous" to Pedro Sánchez during his visit to Navarre after Bildu's support for budgets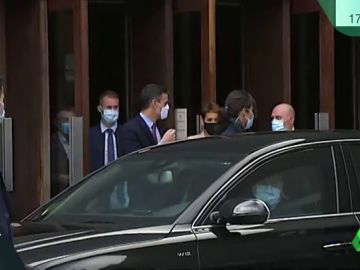 The President of the Government, Pedro Sánchez, met this Friday with the President of Navarre, María Chivite, at the Palacio de Navarra in Pamplona, ​​before presenting the 'Spain Can' economic recovery plan at the conference center and auditorium. Rampart. Upon arrival, Sánchez was booed by a group of people, while journalists asked him about EH Bildu's support for budgets.
Sánchez arrived at the Palacio de Navarra around 11:30 am, an hour late, with fog preventing his plane from landing in Pamplona and he had to divert to San Sebastian. From there he traveled by car to Pamplona. He was received by Chivite in the gardens of the Palacio de Navarra, seat of the regional government, where a few dozen people gathered and booed the president. Some of them carried flags of Spain.
A sign was also seen that read "Sánchez, traitor. Resignation of the government ". After posing for the graphic media, Chivite and Sánchez entered the interior of the Palacio de Navarra, where they met with the entire regional government.
However, due to the delay in the visit, they had to reduce the duration of the meeting to get to the congress center and the auditorium Baluarte, where Sánchez presents the economic recovery plan " Spain Can ", which will guide the execution of 72 billion euros of European funds until 2023. The president of the government of Navarre will also intervene in this act.
The presentation will be attended by around thirty guests, including members of the government of Navarre, authorities and representatives of the economic and commercial sphere. In addition, another group of businessmen will be able to follow it by videoconference.