Technology
they cut the Gran Vía with fences and containers on fire and throw items at the police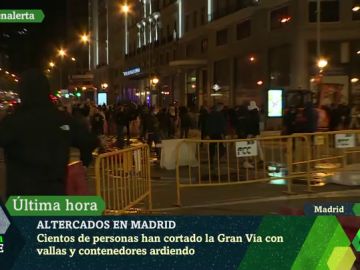 Updated: Sunday, November 1, 2020 12:37 AM
Published on: 11/01/2020 12:26 AM
New day of riots in a Spanish city due to the protests against the curfew. On this occasion, the demonstrators provoked altercations in the center of Madrid, where they burned containers and used fences in an attempt to cut the Gran Vía.
During their journey through the streets of Madrid, the demonstrators also broke windows of establishments and finally the police had to charge to disperse them at the height of the Plaza de España after receiving objects and throwing stones.
Under the pretext of protesting against the curfew, the demonstrators provoked riots which seemed to be planned, since according to journalist Marta Rey, one of the young people confessed to having "traveled 100 kilometers to get to the ground".
The altercations are added to those experienced in other cities, the last of them in Malaga, where, in the district of Huelin, containers were overturned and objects were thrown at the agents.
As reported by " Diario Sur ", the demonstration, which began with a peaceful rally to denounce the curfew and the restrictions implemented to stop the spread of the pandemic, led to a radical demonstration in which to cut a road with barricades to later attack riot police.
The serious situation in Madrid and Malaga is added to those that have taken place in recent days in other cities of Spain such as Barcelona, ​​Logroño or Burgos, where there have been other clashes against the police to denounce the measures. anticovides.