Culture
Thirty publishers file a complaint with the Madrid Book Fair for the location of their booths
Three days after the Madrid Book Fair has closed, 26 publishers have published a letter in which they expose their dissatisfaction with the organization of the great commercial event in the book sector. His criticisms are directed at the director, Manuel Gil: "There is already talk that the publishers of what Gil called the experimental space billed a 40% less than the others. Taking into account that the organization has perfectly mapped the space, it can be deduced that the experiment was not such, since they knew what the consequences would be and that is why they sent us there. "
The complaint of these independent labels refers to the location of their booths in a new area designed in this 80 3rd edition of the fair, held between 10 and the 26 of September. The control of the capacity was a prerogative to be able to return to the Retiro and this resulted in the decision to drastically cut its space at the fair: from 1. 400 square meters was changed to 500. The resulting design created an additional area with booths in the center: an island, which has proven to be a deterrent to sales. There were only three-meter booths there – the smallest of the two available formats – for which small stamps were eligible.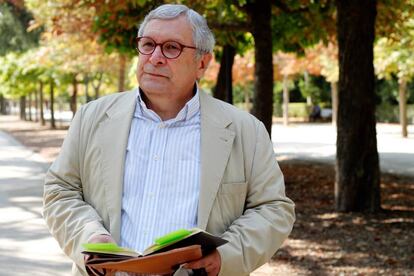 Although the location was decided by lottery —sected in six differentiated groups—, in this new central area, which the director of the fair described on Sunday when taking stock of the event as "experimental", there were in no case the publishers, distributors or large labels, which opt for the booths of four meters.
"With the wind against it, the normal thing is that smaller seals are more affected, those that are not surrounded by a large group. It is the logical thing, and the small publishers face it ", expose the signatories of the protest, among which are veteran labels such as Lengua de rapo, Alpha Decay or Xordica, along with other newer ones, such as Tres Hermanas, Barrett or the debutante in the Retiro, Altamarea. "We bring to light books that others would not publish and we often bet on authors who will later sign up for large groups. We know: they are the rules of the game and still we play. What we did not know is that the Fair was consciously sacrificing us. "
The silence that has been given since the organization of the Fair in response to the growing criticism that these labels have expressed is something that underline. There have been no additional explanations since Sunday, and no compensatory measure has been proposed, nor discounts for future editions. All this has pushed them to join: "Maybe we are not a big group. But we can become a very large group ", they conclude.
The director of the Fair has answered the phone to clarify that they are working on a statement in which they will offer additional explanations and what they will do public later this week. The islands, he assures, will never return, now that capacity controls are being lifted even in the stadiums. "It was an emergency solution. Experimental was not a lucky expression, but what we tried was to accommodate all the booths in the available space. It is clear that it has not worked and that is evident ", Gil has acknowledged. The financial compensation is something that he personally "does not contemplate", but that will be taken to the committee to be discussed. "We will have to see, but at fairs the results are never guaranteed."