Technology
This is how the different autonomous communities are trying to stop the coronavirus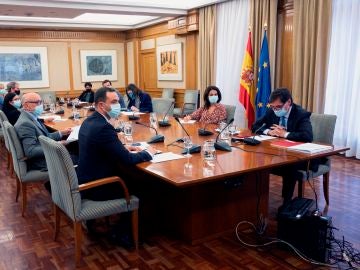 Updated: Thursday, October 22, 2020 11:13 AM
Published on: 10/22/2020 7:10 AM
The Autonomous Communities arrive at today's meeting with health – the Interterritorial Health Council is held – with widely dispersed but in any case worrying situations, Spain already surpassing one million infections and with a cumulative incidence triggered.
Indeed, according to the latest data provided, on October 20, the average Spanish incidence was 332.69 cases per 100,000 inhabitants. An incidence which is far from the objective set by the government of 50 cases per 100,000 inhabitants.
Today's meeting will discuss the possibility of a curfew, for which it will be necessary to declare the state of alarm in advance, and the draft rapid response plan will also be analyzed to gather the basic criteria. to assess the situation of the coronavirus pandemic. in each territory and thus define an alert level with unified criteria.
This document defines up to four alert levels which will result in the obligation to apply minimum actions in the affected territories. In order to assess these alert levels, indicators related to the epidemiological situation, healthcare capacity, public health capacity and the characteristics and vulnerability of the population at risk will be taken into account. In this way, the risk indicators will be divided into two blocks and five levels of severity.
Navarre
Navarre is currently the only community that exceeds 1,000 cases per 100,000 inhabitants, which has led the regional government to decree perimeter containment of its entire territory as of Thursday.
During the next 15 days you will not be able to leave or enter Navarre, except for reasons of force majeure. In addition, the regional government has ordered the closure of all hotels, bars and restaurants, while the rest of the shops are to close at 9:00 p.m., as well as facilities for sporting and cultural activities. The activity is also suspended in gaming or betting halls and in establishments with multifunctional spaces. Meetings are limited to the family or living unit. Public transport is reduced to 50% of its capacity.
Melilla
Melilla is the second with the highest incidence, 835.96. It continues to meet two of the three criteria established by the Ministry of Health to establish restrictions on the mobility of the population, a situation that it continues to avoid by not reaching 35% of COVID bed occupancy. 19.
La Rioja
La Rioja has also taken action, with an incidence of 561.87 cases per 100,000 inhabitants. The entry and exit of the community will be limited to unmotivated trips for two weeks, from Friday 23 at 00:00 on Saturday 7 November. In addition, establishments are closed at 9:00 p.m. except pharmacies, supermarkets, theatrical and film activities and establishments of basic goods and services. For the moment, they do not envisage the total closure of the hotels.
Aragon
Aragon is next on the list, with an incidence of 542.64. The perimeter confinement of the cities of Huesca, Zaragoza and Teruel is decreed as of this Thursday at 00:00 and the entry of the entire autonomous community on level 3 alert, with time and capacity restrictions in all types of premises and establishments from next Monday.
In recent days, the incidence has skyrocketed in all three provincial capitals. While Zaragoza has recorded 543 cases of coronavirus per 100,000 inhabitants, in Huesca this data has climbed to 1,003 and in Teruel to 1,418. Among other measures, bars and restaurants will have to close at 10 p.m. and customers will only be able to consume on the street. terrace of the premises, with a capacity of 50%. Social gatherings cannot exceed six people.
Castile and Leon
Castilla y León has an incidence of 517.81. Aranda de Duero and Burgos joined other populations already confined this week: Salamanca, León and Palencia, as well as Miranda de Ebro de Burgos, the municipality of Leon de San Andrés del Rabanedo, and San Pedro Latarce, a small town in Valladolid of less than five hundred neighbors.
In general, the entry and exit of people is restricted, attendance at places of worship may not exceed one third of their capacity and attendance at vigils is limited to a maximum of fifteen people in outdoor spaces or ten in enclosed spaces, whether or not they live together. All establishments, commercial premises and services open to the public may not exceed 50% of the authorized capacity and bars may not receive customers after 10 p.m.
Madrid
Madrid reduced its incidence to 432.26. Pending what is decided this weekend, some 4.7 million people are confined in this region, including 4.5 under the decree of the state of alarm, which affects the capital, Alcobendas, Alcorcón, Fuenlabrada, Getafe, Leganés, Torrejón de Ardoz, Móstoles and Parla.
In addition to the measures imposed by the central government, the Community maintains restrictions in the health zones of seven other small communes, where nearly 157,500 people cannot leave their area either.
Catalonia
Catalonia, with an incidence exceeding 401 cases per 100,000 inhabitants, has not adopted mobility restrictions, but its bars and restaurants have already been closed for 15 days, a measure to which will be added the overnight closure – from 10 p.m. to 7 a.m. – shops open 24 hours a day and shops attached to gas stations.
Pays Basque
In neighboring Euskadi, the cumulative incidence is 349.08. With these figures, capacity in areas such as hotels and cultural and religious events will be reduced to 50% and the closure of restaurants and bars will be brought forward by one hour, until 00:00. Regarding the attempt to limit social gatherings to 6 people, finally the Superior Court of Justice of the Basque Country opposed because it considers that it violates fundamental rights and has no legal effect.
Andalusia
In Andalusia, the incidence rate is 301.54 per 100,000 inhabitants and, according to data from October 19, the positivity is 15.2%. It currently has 10% of COVID beds and ucis are 14% occupied. All this led to the confinement of Écija (Seville), with 39,873 neighbors; Almodóvar Del Río (Córdoba) -7 937- and Linares (Jaén) -57 414-, the Sevillian town of Casariche having already left the enclosure; In addition, in Granada and in the 32 municipalities of its metropolis, bars and shops close at 10 p.m. with a 50% reduction in capacity and a maximum of 6 people per table, and markets and public parks have been closed.
Asturias
Asturias has its rate at 266.52. It does not reach the national average, but it has decided to decree a modified phase 2, in which it is forbidden to consume in the bars of hotel establishments, the capacity cannot exceed 25% of the capacity in the common areas of the centers. commercial, social activity has limited and non-essential activities postponed. He also recommends self-containment.
With the second wave more than settled in all, but not in the same way, communities have embarked on their own battle against the coronavirus with a battery of restrictions which, while not always directly proportional to their numbers, seek to bend the curve that she almost leaves behind. a million infections.
Castilla La Mancha
The cumulative incidence of this community is 356.94. Some localities maintain special level 3 measures – such as the closure of retirement homes and collective centers of recreational and cultural societies or the reduction of the capacity of terraces to 50% -, such as Almadén and Chillón (Ciudad Real); Manzanares extended Level 2 restrictions – which include limiting social gatherings to 10 people – and Talavera (Toledo) established bars to close at 11 p.m.
Valencian Community
Comunidad Valenciana has one of the lowest incidents, 132.30. Last Friday, additional restrictions were adopted against COVID-19 in Guadassuar (Valencia), Elche and Orihuela (Alicante) and Onda (Castellón), ranging from limiting the maximum number of people for social or family gatherings to 6, and to 25 the maximum number of people in the open air wakes, or 15 in the closed spaces when the play areas are closed, among others.
Galicia
Galicia, in its case, has an incidence of 183.96. La Xunta has announced that the entire community is reverting to Level 2 restrictions from this midnight, which implies a reduction in the capacity of bars and restaurants and limiting social gatherings to five people, in certain areas only. allowed to cohabitants. The containment of the perimeter that has so far affected 134,048 inhabitants, the majority in the capital Ourense and Barbados, as well as O Carballiño, O Irixo and Boborás, will extend to the inhabitants of Verín, Oimbra and Vilardevós, in the same province.
Cantabria
Cantabria has an incidence of 180.35. However, the regional executive, which recommends self-containment, will this week release a package of measures to limit social relations, which will include reducing the number of people who can meet – there are currently 10 – and also the capacity.
Extremadura
Extremadura, with an incidence of 317.97, decreed the closure of the perimeter and the return to phase 1 of Almendralejo, as well as the isolation of the perimeter and control of the capacity of Jarandilla de la Vera, La Roca de la Sierra, Usagre, Cabezuela del Valle, Jerte and Tornavacas. In addition, it has adopted capacity control measures at eleven other sites.
Murcia
The region of Murcia has an incidence of 358.06. Jumilla and Lorca got out of mobility restrictions, leaving just 47,000 people confined in total spread across Totana, Fortuna and Abanilla.
Ceuta
Ceuta has the highest positivity in Spain (27.7%), its incidence is 381. The autonomous city will limit meetings to a maximum of six people who do not live together, among other measures.
Balearic Islands
The Balearic Islands have one of the lowest indicators: incidents of 14 days out of 137. Along with the lifting of certain restrictions such as the closure of businesses in the streets that are the destination of excess tourism in force since July, nightlife, local recreation and parks for children and extended by a week those established in the municipality of Ibiza. It will also reduce the maximum number of people attending social and family gatherings in Mallorca and Ibiza from 10 to 6.
the Canary Islands
The Canary Islands present the most favorable situation, with an incidence which remains at 81 cases per 100,000 inhabitants. Gran Canaria, Fuerteventura and La Gomera have abandoned the red light situation in which it will remain until 23 Tenerife, where events or acts of more than 10 people are not allowed, while hotels, restaurants and terraces like bars beaches and restaurants, they must close before midnight.