Technology
This is how they live one day in the critical unit of the hospital in Ourense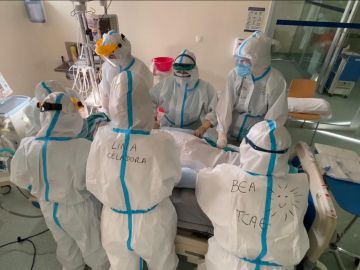 "It's slow but things are going great. We talk to your husband every day, but he can't come here because we have to protect him." These are the words with which an anesthesiologist tries to calm a patient in the intensive care unit of Ourense hospital. A few words of encouragement which reflect the struggle in which all health workers in our country are plunged.
The intensive care unit (ICU) of the University Hospital of Ourense, in the health zone of Ourense, Verín and Barco de Valdeorras, is on the borderline. The occupancy rate is already 80% and all of its toilets are running against the clock to stop this second wave of COVID-19.
As can be seen from the images accompanying these lines, dressed in overalls, masks and gloves, these workers are trying to save the lives of all their patients and to accompany them emotionally in such a difficult process by sending them messages of their relatives. And they struggle not only with disease, but against the loneliness of an isolated intensive care unit.
In fact, the video shows an anesthesiologist named Nuria trying to calm one of the patients battling COVID-19: "We talk to your husband every day, they're fine. They can't come here because we have to protect them, but We talk to them and they ask you. "
As explained by the Ministry of Health, the occupancy rate of intensive care units is around 80% and around 30% are coronavirus patients, who face long periods of admission due to the severity of their illness. This is a great "concern" for the health authorities, who insist on a message of "responsibility and personal commitment to respect individual protection measures".
The latest data, dated November 2, showed 1,299 active COVID-19 cases in Ourense. Currently, 96 patients are admitted, including 16 in critical condition. A worrying situation but which has improved compared to the week of October 20, when 125 admissions were recorded.