Technology
This is the simple and inexpensive system created by Spanish researchers to clean the air from the coronavirus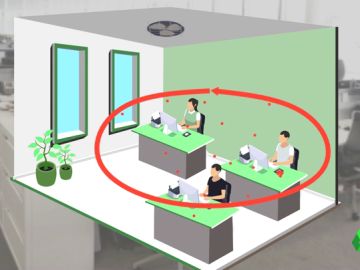 Posted: Saturday, November 14, 2020 7:06 PM
Using a supermarket fan and a filter similar to those used by air conditioners, a group of Spanish researchers developed a system to clean the air from aerosols in a standard classroom and prevent coronavirus infections for around 50 euros (around 60 Dollars).
The Fluids Dynamics and Combustion Technologies Research Laboratory (LIFTEC) and the University of Zaragoza (north-eastern Spain) are working on the design of this "artisanal" equipment, as efficient as commercial HEPA filters, but at a cost ten times lower. University professor of fluid mechanics Javier Ballester, who heads this group of scientists, tells EFE.
Transmission of the coronavirus through aerosols – the droplets expelled by breathing and speaking – is scientifically proven, Ballester points out, so ventilation is essential to avoid contagion. However, there is more resistance to opening windows in cold weather.
The idea of ​​purification with filters was already used in China and California (USA), for example, to protect against contamination by fires, explains the scientist. The important thing is to properly size the equipment for the necessary clean airflow, based on the dimensions of the room, as a school classroom is not the same as a large office.
The World Health Organization, says Ballester, recommends five air changes per hour, which does not mean ventilating five times, but maintaining permanent ventilation, so that the volume of the room is renewed five times. Thus, to ventilate a classroom 40 square meters and 2.5 meters high, or a volume of 100 cubic meters, it would be necessary to have equipment emitting an air flow of 500 cubic meters per hour, explains the searcher. .
A commercial purifier for this case would cost around $ 500, he said, but the model they designed, still awaiting official certification, would not exceed $ 50 or $ 60. The operation and assembly of the purifier is simple: the filter is attached to the fan with adhesive tape, it is placed in a more or less central area of ​​the room and it retains the aerosols when the air passes through it, thanks to the blades of the the fan drives the flow.
The question is therefore to know how to play with the filter strong enough to retain aerosols without hindering the air circulation of the fan.