Culture
Thomas Demand Destroys Until Whitney Houston's Last Supper
Whitney Houston's Last Supper was on 11 February of 2012, at the Beverly Hilton hotel in Los Angeles. Then he died of an overdose in the bathtub. He was 48 years old. He did not scrape the plate, there were leftover salad and what looks like eggs. He left the drink, a soda, half and a few lemon wedges. A small vase with some pink flowers gave some warmth to this tragic ending. In the same year of death, German artist Thomas Demand recreated the moment with a life-size paper model in his studio. He photographed it and destroyed it, as he does with all his works. The image hangs in the main room of the Centro Botín. It literally hangs from a wooden structure that it has called a pavilion and that turns the exhibition Mundo de Papel into a game of architecture and photographs, but also of reality and artificiality. "I create the world in front of my camera, I don't take it out onto the street," explains Demand. "My photos are basically fake, but at the same time they are real."
So, does Demand manipulate reality or is it already manipulated before he recreates it in one of his models? The photographer, but also a paper craftsman, whose work has been exhibited in major museums of contemporary art around the world and in architectural biennials such as Venice, explains it this way: "Before reaching the Botín Center you have to cross a park, the greater artificial representation of nature. Once you enter this building, suspended on pillars towards the bay, the first image that appears is a lake of water lilies. They are false, I recreated them in my study as that park recreates nature ". I mean, there is something untrue in what surrounds us that Demand has turned into art. Like Monet, remember, he painted his water lilies from his own garden.
The 36 pieces that make the Demand show the most important in Spain hang on large wooden structures that show the seams. The Demand pavilions are like the racks of a canvas, the timber frames look like the seams on the inside of a press. They are suspended on the pillars of the roof of the building that Renzo Piano created, capable of supporting tons of weight. And they give the works that immersive experience that allows us to understand a little better the essentially architectural scenes, devoid of people, but that represent the best and worst of the human being. "I eliminate people, we only see the space, as if it were a theater stage. It is the theater of emotion ", assures the artist.
The Fukushima nuclear accident, the empty folders of a press conference of Donald Trump to justify his workload, the shipwreck of the Sea Diamond cruise ship or simply the end of a house party when still more than . be aware of opening windows and washing hands. Those are the emotions that Demand chooses to convey through his photographs. The artist wants the other's eye to capture them in their apparently simple representation on paper. Then destroy the job. And again, he says, "the imagination remains", in order to make a second attempt to "attract the viewer towards the illusion of art."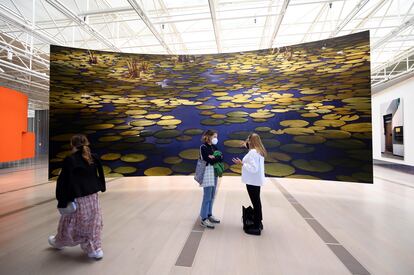 In the Botín Center, in addition, reinforce the game of illusions with two stop-motion videos. That is, using the technology that Disney used in the 1920s, it has created two videos that play 24 frames per second to achieve "the illusion of movement". This idea is influenced by a text by Mario Vargas Llosa included in the catalog: "Between the images of those realistic objects and the surrealist images of nature, there is the same hand and an obsession: that art cannot depart from realities human beings, which it enriches and justifies. "
'Mundo de Papel'. From October 9 to March 6, 2022 at the Centro Botín de Santander.