Technology
Venezuelan opposition leader Leopoldo López is already in Madrid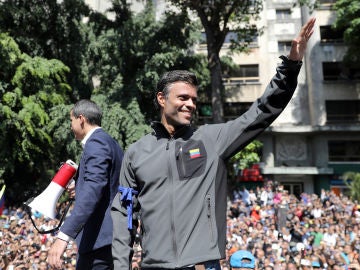 Leopoldo López, a Venezuelan opposition leader, is already in Madrid, according to LaSexta, who spoke with members of his close environment such as family and friends. His arrival in Spain sets the stage and follows a political activity whose main objective is the exit from power of the Venezuelan president, Nicolás Maduro. López was sentenced to nearly 14 years in prison, of which he served only three years, but maintains his status as a symbol of the "Chavist" authorities' crackdown on the opposition.
López was born in Caracas on April 29, 1971 into a wealthy family. He is a descendant of Simón Bolívar himself, liberator of several Latin American countries, and of the first president of Venezuela, Cristóbal Mendoza. He completed his high school education in the United States, where he also obtained a cum laude economist degree from Kenyon University in 1993.
He is also a graduate of Harvard University, from which he obtained a master's degree in public policy in 1996. López founded the opposition party Primero Justicia in 1992, alongside the now politically distant Henrique Capriles and Julio Borges . Former President Hugo Chávez used to accuse López of being. In fact, former President Hugo Chávez used to accuse López of being an agent of the US Central Intelligence Agency (CIA) and of having founded the party with money from the state-owned oil company PDVSA that his mother, Antonieta Mendoza, allegedly turned him away.
In 2009, López founded the popular Voluntad party which, together with Primero Justicia, dethroned the traditional Venezuelan parties of the so-called "fourth republic". He was also mayor for two consecutive terms (2000-2008) of the wealthy municipality of Chacao in Caracas, which he joined when he was only 29 years old.
López generates in his supporters a fascination comparable to that of a rock star, which only increased after the opening of the legal proceedings against him for supporting the opposition revolts of 2014, which left 43 dead . He was sentenced in September 2015 to nearly 14 years in prison as the mastermind of violence. On February 18, 2016, two Nobel Peace Prize laureates, Costa Rican Oscar Arias and Polish Lech Walesa, demanded the release of Leopoldo López in the Venezuelan Parliament.
That same month was published the book "Prisoner but Free", a journal written by López in prison. Almost six months later, on August 12, the Venezuelan Court of Appeal ratified López's prison sentence and his lawyers appealed on points of law.
López was released from prison on July 8 and placed under house arrest. This came hours after the former president of the Spanish government, José Luis Rodríguez Zapatero, met Maduro. Less than a month later, on August 1, he was returned to Ramo Verde military prison. On August 5, he returned to his house arrest.
On February 15, 2018, Juan Carlos Gutiérrez, López's lawyer, called for his "immediate release" after former Venezuelan prosecutor Luisa Ortega admitted to being pressured by Chavismo's "number two" Diosdado Cabello for imprison him. He was released on April 30, 2019 by officials from the Bolivarian National Intelligence Service (SEBIN) guarding him and appeared with a group of rebel soldiers with opposition leader Juan Guaidó at La Carlota air base in Caracas. .
The next day, when the failure of the coup d'etat or "civic-military mobilization" for the opposition was already glimpsed, López, his wife, Lilian Tintori, and their daughter, then aged 15 months, were already at home. residence of the Spanish Ambassador in Caracas. located in the Country Club urbanization of Caracas. López's political activity has been drastically restricted so as not to violate his status as "guest" within diplomatic facilities.
On May 2, 2019, a Caracas court ordered the arrest of the leader of the Popular Will for non-compliance with "the measure referring to the condition relating to political statements by conventional and unconventional, national and international media, thus demonstrating non-compliance subject to action ". In June, the American newspaper "The Wall Street Journal" identified López as the ideologue and organizer of Operation Gideon, an attempted coup against the government of President Nicolás Maduro that was frustrated at the start of the war. month of May this year. López denied this relationship.