Technology
Vox postpones meeting with PP on budgets in Andalusia after Casado's harsh speech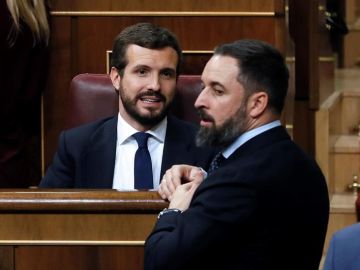 First reactions outside the Chamber after Pablo Casado's break with Vox due to the motion of censure filed against Pedro Sánchez.
As LaSexta learned, the far-right formation postponed the meeting it was going to hold this afternoon on budgets with the Andalusian executive. They assure that they will not break the negotiations in this direction, but they warn that the speech of Pablo Casado in today's debate has led them to rethink certain issues related to the government in Andalusia.
And it is that the president of the "popular" was very hard against Santiago Abascal in his speech from the hemicycle. He said Leader Vox was not ready to be president and his party did not have the experience to justify his vote against the no-confidence vote.
A very harsh intervention against Abascal and his 51 deputies allowed the head of the PP to move away from Vox's position in the Congress of Deputies. "In two years, I have not responded to their provocations, but we have come this far. We do not want to be the party of anger and revenge," he said.
Vox assures he will not break off negotiations, but warned against Casado's speech
"You don't fight for ideas, you just have the idea of ​​dragging the Spaniards into battle, but the real policy is to do things for the people. I thought, given your career, it would not be necessary, but I will explain it to you. The PP does not nourish neither fury, nor noise, nor fractures. We only want to unite the Spaniards ", declared Pablo Casado.
These remarks dislodged Santiago Abascal, who admitted feeling "surprised" by the position of the PP. From the podium, he spoke to Casado to tell him that he "did not expect" this tone: "The PP took off his mask and Mariano Rajoy's assistant secretary for communication returned. He joined the cartoon of Vox, Abascal, 52 deputies and some Spaniards who still vote for him ".
Likewise, Abascal pointed out to LaSexta that Pablo Casado's harsh tone "surprised everyone, especially the government, which applauded his intervention." "Personal attacks are always a mistake," added the president of Vox, who has always defended the motion as "an instrument of reproach to the prime minister".
The one who celebrated the intervention of its president in the lower house was Juanma Moreno, the president of Andalusia. In statements on social networks, he assured that "today it has been shown that Spain needs Pablo Casado as president".