Technology
Vox's motion of censure fails with 298 "no", 52 "yes" and a government supported by the majority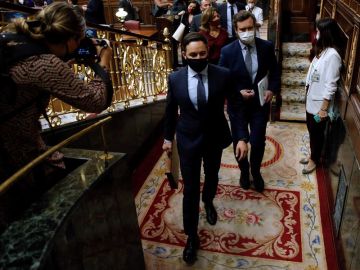 Publication: Thursday October 22, 2020 2:54 PM
Chronicle of an announced failure. Vox's motion of censure did not go forward after having encountered the refusal of the entire hemicycle, less yours. 298 "no" and no surprise in the ranks of the PP after the harsh speech that Casado addressed to Vox.
Government President Pedro Sánchez celebrated the defeat of the Vox motion via Twitter. "Today Spain is saying NO to the far right. We say yes to progress, to understanding. Today # EspañaGanaPierdeVox. With the motion, we close the door to anti-politics to continue on the path of real politics. The one that is useful, the one that solves people's problems. We continue! », Declared the chief executive.
It is the first motion in history without abstentions and the fourth which fails (out of the five which were, only the one which was against Rajoy's PP succeeded). It is also the one that has received the most government support in history. And it is because the coalition government, in the words of Vice-President Iglesias, had already clearly indicated that it was "a motion against the PP, a motion against Pablo Casado". Previously, the leader of the PP had staged his break with Vox from the platform of the hemicycle: "It's not that we are not courageous, that we do not dare, it is that we do not want be like you. "
"You don't fight for ideas, you just have the idea of ​​training the Spaniards to fight, but the real policy is to do things for the people. I thought, given your career path , it would not be necessary, but I will explain to you The PP does not nourish neither fury, nor noise, nor fractures. We only want to unite the Spaniards ", declared Casado during his speech.
Abascal, on his departure, pointed out to LaSexta that Pablo Casado's harsh tone "surprised everyone, especially the government, which applauded his intervention". "Personal attacks are always a mistake," added the president of Vox, who has always defended the motion as "an instrument of reproach to the prime minister" (as he pointed out yesterday in Congress).
Thus ended two days of political debate in Congress, without taking the eyes off the pandemic and with the increase in the number of infections.