Technology
"We are all going to die one day. Let's stop being a land of bundles"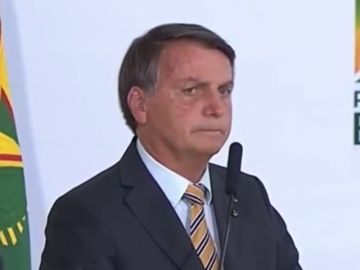 Updated: Wednesday, November 11, 2020 9:54 AM
Published on: 11.11.2020 09:52
Brazilian President Jair Bolsonaro assured that there are sectors that "intimidate" society with a possible second wave of coronavirus and demanded that citizens "not be queer" and understand that the economy is "vital".
At an event on the tourism sector, one of the hardest hit by the COVID-19 pandemic in the country, Bolsonaro was elated by the economic impact of the virus and warned that "now they are starting to intimidate the population "with a possible second wave.
The pandemic in Brazil, one of the most affected countries in the world, has so far claimed some 163,000 deaths and 5.6 million cases and no specialist to date considers that the so-called first wave may be considered complete.
However, the Brazilian far-right leader insisted that "the pandemic was oversized", quipped that the press would condemn him again for it and assured that "everything" he criticized in terms of quarantines was "proven.".
"They were told to stay home so that the economy would recover later and they cast them all," while "they handcuffed and detained women for going to the beach" like "that doesn't happen than in dictatorships, "he said in reference to the preventive measures taken by mayors and governors in the most difficult moments of the pandemic.
He also recalled that he had warned of the consequences of temporarily closing businesses and stores and argued that "now this clown we have in the press says hunger is threatening us again" in the country.
"They are threatening the second wave. We have to face it. This is life. I have feelings for all those who have died," the president said, and stressed: "There is no way 'escape reality. We must stop being a land of bundles. "
He complained again about the Supreme Court's decision which handed over quarantine decisions, already completed, to mayors and municipalities, complained of not allowing him "to adopt measures and asserted that the country "did not lack a leader, on the contrary, it failed to let a leader work. "
In this context, he stressed that he was not a "superman" and said his life in power was "a shame". "I have no peace at all, I cannot go out for cake or make jokes because the press is destroying me," he said in a tone of angry complaint.