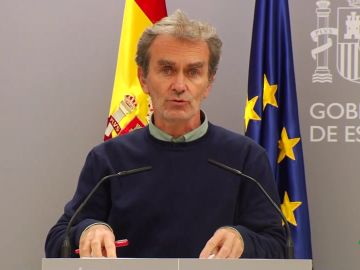 Updated: Thursday, November 5, 2020 8:23 PM
Published on: 11/05/2020 20:17
Some autonomous communities have been asking Sánchez's executive for days to allow regional governments to establish home lockdowns in their territories. A measure that the Minister of Health has rejected on certain occasions.
Asked about the home containment that neighboring countries are already applying to contain the increase in coronavirus infections, Fernando Simón, director of the Coordination Center for Health Alerts and Emergencies, assured that "technicians told me that in d 'other countries the confinements are in fact less harsh than what we are doing here. "
"Therefore, we are not doing less than other countries," he said, while indicating that the "lockdowns" announced by other countries do not involve full containment. In addition, he felt that in many communities "the measures that can be applied are not yet exhausted and I hope there is no need to toughen them up" because transmission is already starting to decline, says. there, after the restrictions imposed a few years ago. weeks.
Although he stressed that "containment is unlikely to be necessary" in our country, the health spokesperson explained that "eliminating transmission is impossible, we can control it and we believe that with existing measures, it will be achieved, and otherwise we will enhance ".
"The evolution is relatively stable"
Simón also indicated that "the evolution is relatively stable", but this was observed in a "too short" period, so he insists that it takes a few days to see the real effects of measures such as mobility restrictions or curfews, to see if the trend has really stabilized.
In addition, the director of the CCAES wanted to express a little optimism in his remarks. "It gives the feeling that we are in a wheel of pessimism and fatalism, in plan, this will end everything, and it is not necessary." "We can try, here I will be optimistic, the data does not allow me to say that we are down but we can do it together, while the vaccine arrives."