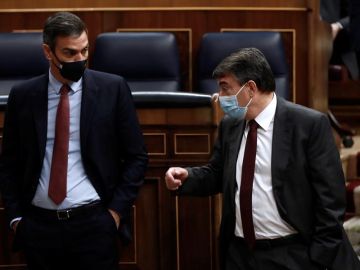 Posted: Wednesday October 21 2020 19:20
"The PNV will not help give importance to this stupid motion of censure." PNV spokesperson in the Congress of Deputies, Aitor Esteban, did not want to use his 30 minutes of speaking time and sent Vox's motion of censure in one minute.
Thus, he stressed that his training will not contribute to what he called "a fraudulent use of the parliamentary instrument of the censure motion" by a political party, says Esteban, "which presents a candidate by elimination, because They had no more after the pumpkins they received from other people for their offerings. "
The leader of the PNV directly criticized Santiago Abascal, candidate for the presidency of the government who, he assures, "neither aspires to be invested, nor to govern, nor to obtain the support of any political group". "He does not present a project to obtain a parliamentary majority but a mixture of simplistic and contradictory ideas to sow weeds and hatred.
Esteban also accused Vox of "looking for minutes on television" and of wanting to "ban those who don't like them", including the PNV party.
He also criticized the moment when this "unnecessary" censure motion arrives, amid an endemic economic and social crisis to "trigger elections that would complicate the situation by delaying decision-making". "We will vote no, you can skip the next round and use the 29 minutes that I have not used", decided the Basque deputy.