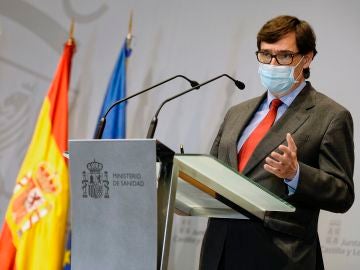 Updated: Friday, October 23, 2020 12:46 PM
Published on: 10/23/2020 12:22
The debate continues on the application of the curfew throughout Spain. Salvador Illa once again insisted that a measure like this one, which affects the whole territory, needs unified criteria and support to ensure its extension. This was stated during an appearance with the president of Castilla y León.
"With a restriction measure that affects the entire territory, we must all go together and be guaranteed to have clear support to extend it beyond 15 days, if necessary," he said in his speech. His commitment, he said, is to "reach consensus" and send a clear message to the public in this regard.
There are already several Autonomous Communities looking for alternatives to apply night mobility restrictions without requesting an alarm state. This is the case of Castilla y León, which, according to its president, wants to impose this measure throughout the weekend. During an appearance with the Minister of Health, Mañueco explained that he was already working on the "legal tool" that allows this restriction.
Madrid announces restrictions between 00:00 and 06:00 and Castilla y León operates to the same extent
At the same time, Madrid's regional health minister announced that he would limit family and social gatherings, both in public and private spaces, between midnight and 6 a.m., except in cases of cohabitation. Some measures, according to Escudero, "have focused on drastically restricting social activity, especially at night."
Asked about this announcement, the Minister of Health recalled that the government will support all measures that will flatten the contagion curve that the autonomous communities are taking. "The situation in Madrid has improved, but there is still a way to improve. It is necessary to take severe measures in all the autonomous communities", he declared.
Ximo Puig announced this Thursday that the Valencian government will send the resolution on the curfew to the Superior Court of Justice of the Community so that it can be validated in the coming hours and that it can be made effective "in the first days next week "because before the increase in the pandemic" we must react with determination ". If that is not possible, he will ask the government for a state of alarm.
For its part, the Junta de Andalucía agreed this Thursday to apply the curfew in Granada and in thirty municipalities in its metropolis, restricting mobility from 11 p.m. to 6 a.m. and the closing of bars at 10 p.m. : 00 in the cities of Seville, Cordoba and Jaén.
Arrimadas offers its seats for a state of alarm
Inés Arrimadas offered this Friday the ten Citizens' seats in Congress to declare a state of alert and be able to implement the curfew. The party leader has just announced that she contacted Pedro Sánchez this morning and asked him to let the executive "take control".
"That he declare a state of alarm to avoid a second confinement, a confinement as hard as that of March," said Arrimadas. He has already asked the People's Party to support him as well. They are calling for "strong measures, anyway, but a national plan" because, he says, "we cannot know about every autonomous community every day".