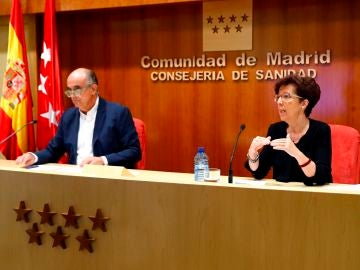 Publication: Friday, October 30, 2020 11:05
A "hard" message of "absolute rudeness" is the one that Antonio Zapatero, Madrid's deputy minister of public health and the COVID-19 plan, and Elena Andradas, director general of public health, wanted to convey this Friday .
"We have to stay home," Escudero said, arguing that now is not the time to "spend bridges, parties or meetings" given the development of the coronavirus pandemic.
At the start of his appearance, however, the deputy minister highlighted the "downward trend" of the coronavirus in the region, which already has more than 300,000 cumulative positives. The cumulative incidence, say health officials, is 401 per 100,000 population, with a "worrying" trend in the 15-24 age group, with 567 cases per 100,000 population.
"We call for individual responsibility," Zapatero insisted, promising that despite the data going "down", they will not "let their guard down."
To the 32 basic health zones that are limited throughout the Community of Madrid, three new zones are added: Valle de la Oliva (Majadahonda) and two basic zones of Coslada (Barrio del Puerto and Doctor Tamames). In total, 11% of the region's population is subject to these restrictive measures, according to Elena Andrada.
The importance of ventilation in confined spaces
Regarding nighttime mobility restrictions, Andrada said "they need more time" to estimate the impact they may have on the drop in cases.
Zapatero devoted part of his speech to sharing the contagious effect of aerosols, stating that "most infections occur indoors".
"It is proven that aerosols are likely to contain active virions of SARS-Cov-2", he added while explaining the importance of ventilation of confined spaces and monitoring of CO2 in public places .