Technology
"We need to know what happened and how many are the victims"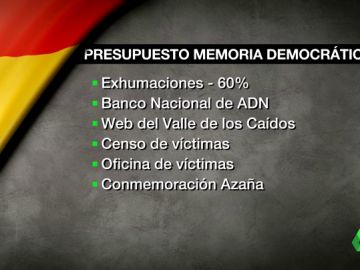 The grandfather of Purificación López was assassinated on April 17, 1939 in Castilblanco, once the civil war was over: "Compatriots of the city dressed as Falangists had made trenches for the war, and there they were murdered and thrown. " They've been looking for him for 12 years. Her father, now 91, remains hopeful. "He would give half of what he has left of his life to find his father," Puri said.
The victims of the Franco regime hope that the new accounts of the executive will comply with their demands. "The state is the one who must assume it and take responsibility for it in the last resort," Puri said. In this draft budgets, it is envisaged to allocate more than 11 million to historical memory. A four-year plan for the graves is proposed which will receive the greatest economic support.
"60% of the budget will go to the graves," said Fernando Martínez, Secretary of State for Democratic Memory. But who will carry out this plan? Martínez assures that this process "will be led by the State", and adds: "We are talking about municipalities and autonomous communities under the coordination and direct intervention of the Secretary of State for Democratic Memory".
Since 2000, more than 9,000 bodies have been unearthed. In this sense, the government claims with this plan "to exhume around 20,000 bodies", as Martínez continued to explain. But in addition to exhumations, money from the budget will also go towards the establishment of a National DNA Bank, the development of a website for the Valley of the Dead, and the creation of a victim census, among others. initiatives.
"We need to know exactly what happened and how many casualties there are," the Secretary of State for Democratic Remembrance said. In 2007, with the socialist government led by José Luis Rodríguez Zapatero, the first budget item was considered to repair the horrors of war. Already at that time, Zapatero appreciated the need for "the families of the victims of the civil war to know where their loved ones are buried".
At least that was the intention until in 2013, popular president Mariano Rajoy reduced this budget to zero. Memorialists and international humanitarian organizations have been calling for democratic memory to be treated as a matter of state for years.