Technology
When do the measures and restrictions start in the Community of Madrid?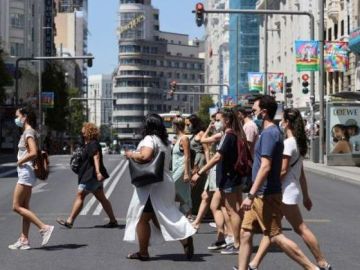 Madrid's Health Minister Enrique Ruiz Escudero announced new measures this Friday to contain coronavirus infections in the region, which will take effect this Saturday at 4:47 p.m. (those that affect basic health zones They will do so on Monday) . The adviser ensured that these restrictions were "general for the whole territory and specific to basic health zones".
Among the new restrictions, some stand out, such as the ban on meetings in public and private spaces between midnight and 6 a.m., the reduction in the capacity of bars and restaurants or the closure of parks and gardens. Here is the full list of restrictions approved by the regional executive:
Meetings between midnight and 6 a.m. in public and private spaces are prohibited. The rest of the hours, meetings with a maximum of 6 people will be authorized without cohabitants. The capacity in bars and restaurants is reduced to 50% and on the terrace to 75%. In addition, serving at the bar is prohibited. Stores will have to close at 10 p.m. except essentials and capacity is also reduced to 75%. Cinemas and theaters will have to reduce their capacity to 50%. Residences and residences must close at midnight in the morning. As for the sports halls, a maximum of six people and a capacity of 50% is fixed. funeral and worship service is reduced to 50%.
The measures are different for the basic health zones where a greater number of cases have been recorded. In these perimeters, the exit and entry of people are restricted except for justified movements and the movement of people is authorized in compliance with preventive measures.
On the other hand, the hotel and restaurant industry will see its capacity limited to 50% indoors and outdoors and new customers will not be admitted after 11:00 p.m. In these places, the tables should be kept 1.5 meters from the chairs, and there will be a maximum of 6 people per table. In these areas too, the play areas will be closed to the public and vigils can be organized with a maximum of 15 people outside and 10 in private.
Affected health zones
In the city of Madrid, there are 32 new health zones, affecting 12 municipalities and nine districts. They are: Núñez Morgado (Chamartín); Guzmán el Bueno (Chamberí); San Ándres, San Cristóbal and El Espinillo (Villaverde); Entrevías, Peña Prieta, El Pozo del Tío Raimundo, Alcalá de Guadaira and Numancia (Vallecas); Daroca (linear city); Vinateros-Torito, Pavones and Vandel (Moratalaz); Puerta del Ángel (La Latina); Begoña (Fuencarral); and Infanta Mercedes and Villaamil (Tetuán).
Outside Madrid, several municipalities will be affected by the new restrictions. Within the limits of Collado Villalba, Guadarrama, Majadahonda, Villarejo de Salvanés, Colmenar de Oreja and Morata de Tajuña, they must be filled in all health zones. In others, this will only be done by area, as in the case of San Juan de la Cruz (Pozuelo); the San Blas and the Painters (Parla); Colmenar Viejo-Nord; Borders and compasses (Torrejón de Ardoz); and the Boalo (Manzanares el Real).
Health Minister Salvador Illa appeared on Friday morning and said the ministry would hold "bilateral meetings" with the autonomous communities.
"We are in a very worrying situation, difficult weeks are coming, we are in a second wave in Spain and in Europe. It is important that the measures taken by the health authorities are strictly observed by the citizens", said the member of the central government. Likewise, he called for "the exercise of individual responsibility" and insisted that "this virus is serious".