Technology
"When the board deems it appropriate, it will be activated"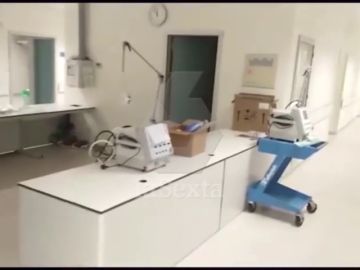 Posted: Monday November 9 2020 11:18 AM
New controversy in the management of this health crisis in the Community of Madrid. As the regional government completes the construction of a pandemic hospital in Valdebebas, the Infanta Sofía University Hospital has a closed intensive care area for lack of having equipped it with beds, monitors and ventilators.
From the health center, located in San Sebastián de los Reyes, they have been asking for it to be opened for months to treat more critical patients, especially during this health crisis. However, from the Community of Madrid, they ignore this call for help and avoid commenting on it.
Today its vice president, Ignacio Aguado, celebrated the construction of the Valdebebas hospital "because it is good news and an unprecedented effort". He did so by ignoring a question about the closed ICU situation. "When the Ministry of Health deems it appropriate, it will be activated and made available," he said in this regard.
And it is that this Sunday, Salvados published unpublished images of the factory that continues to be closed at the Infanta Sofía Hospital. Behind a door that prevents access with a padlock, there are 16 intensive care rooms, space for a staff room and several offices. This can be seen in the pictures we show you below.
According to two health center agents explained to the laSexta program, these rooms are almost ready and could begin to be used to treat more critical patients. The only thing missing is for the Department of Health to equip them with beds, monitors and ventilators and allow them to open. "These are all connections and everything is ready to go," they said.
The situation in this Madrid hospital is the same as it was eight months ago. At the start of the COVID-19 pandemic, Isabel Díaz Ayuso announced that she would open these intensive care units to expand health capacities. Although in the middle of the second wave of this crisis, they are still closed.