Technology
"Will primary care be dismantled again?"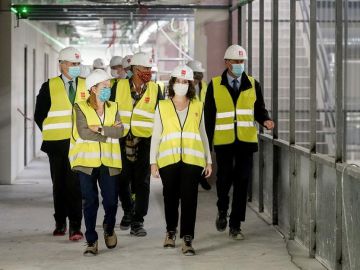 Posted: Monday October 26 2020 11:45 AM
Many doubts and no certainty about the new hospital for pandemics that the government of the Community of Madrid is building. A hospital in the Valdebebas region that even Díaz Ayuso herself does not know exactly what resources and health facilities are going to be provided. "We are at the moment with this hiring. What we see above all is a reinforcement that comes from other hospitals. Nothing will be missing," said the regional president in an interview on Telemadrid.
Words that aroused great concern in Julián Ezquerra, secretary general of AMYTS (Association of Doctors and Senior Graduates of Madrid). "Does this mean that primary care is going to be dismantled again? Will it transfer doctors from other hospitals to go to this hospital? If they move, what situation will the original hospitals remain in? ? The models are very tight "asks Ezquerra.
A question that Díaz Ayuso could not answer in his interview; His excuse is not something to worry about. "I think the president does not have to go into details on how they are going to reorganize the teams, the material … These are questions that are not normally asked of a regional president," said the leader. Madrid.
LaSexta asked Justice Minister Enrique López on Monday, and he replied, without clarifying any questions either: "The human resources team at the Department of Health is working on it and they will find a solution." We must congratulate ourselves for it ".
Councilor López stressed that this hospital will be "a benchmark in Europe", although for Julián Ezquerra it was not necessary "to spend 50 or 70 million to build a hospital when we had completely abandoned primary care". "It is a hospital for which we do not know what its future will be, apart from the specific need that may exist", they add from AMYTS.
For its part, the City of Madrid also spoke out in defense of Díaz Ayuso. According to the mayor of Madrid, "What Ayuso said is that the hospital is going to have guaranteed resources and that a new structure will be opened. We will see if it is a reorganization or a hiring ", added Martínez-Almeida. However, faced with this future hiring, AMYTS does not understand why then "the staff were fired and were not hired in May".